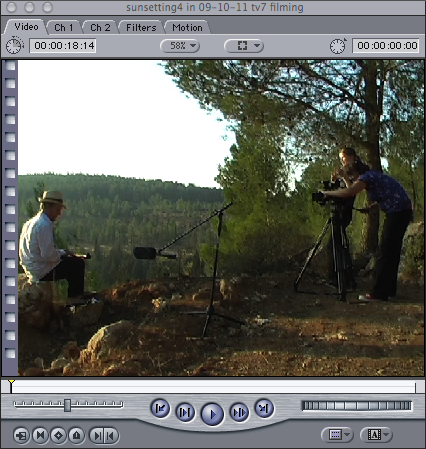 Teddy from Yerubilee, filming on location in the Jerusalem Forest
The name of the program is "Israel Art." During the interview I share about worship and art, play some live tunes on my Davidic harp, read from the Hebrew bible (Psalm 24) all to the lovely backdrop of the Jerusalem forest in the mountains surrounding the City of the Great King.
For the Web: You can see it through the internet stream at the correct hour at www.tv7.fi, click on the words "Netti-TV", and you get the streaming window.
Or, paste http://www.tv7.fi/asx/tv7_live.asx into your browser or into Windows Media Player (or VLC etc).
If you are in Finland, you can watch it on TV7.
The rerun airs on:
Thursday, 29th October:
7:15pm EST (USA)
1:15 am Finland/Israel
Friday, 30th October:
2:45am EST (USA)
8:45 am Finland/Israel
The program aired the first time on Sunday, 25th October at:
3:45pm EST in the USA
9:45pm Finland time
9:45pm Israeli time
Additional times are shown on the tv7.fi website (click "Netti-TV") and we will try to post them here. Feel free to check the tv7 website – the upcoming showtimes are on the left side scrollbar – our show is called "Israel Arts – Teddy Chadwick."
Recent Yerubilee updates:
Invitation to Minister in Nigeria
Teddy Chadwick,
Yerubilee.com
"Messianic Roots Reggae from Jerusalem"
"Lifting up the Name of Yeshua
in Israel and in the Nations"
follow me on twitter.com/yerubilee
The only place to order autographed CD's,
shipped from Israel:
Yerubilee.com
Jerusalem Tabernacle of David (JTOD)
JTOD.org
Yerubilee: Messianic Roots Reggae from Jerusalem
Yerubilee.com